Cataloging music has never been easier.
Startup screen
OrangeCD Catalog startup screen displays quick links to most common tasks, such as adding a new CD or MP3 album, searching, a tip of the day, your music catalog statistics and the albums that were recently added. All items of the startup screen can be turned on and off to accomodate your needs.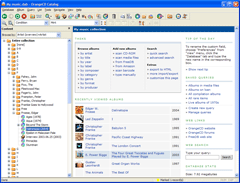 CD scanning screen
Just insert a new CD, and OrangeCD Catalog will read from it and download all relevant information from Internet, so you don't have to type. Today, FreeDB provides the information about roughly a million of music CDs, and the number is growing every day.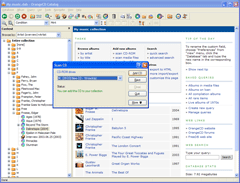 Thumbnails view
In thumbnails view, albums are represented by their small covers. You can view the details of each album by clicking its cover. The left part of the window displays all albums in your database, grouped in folders by artists, formats, genres or any other fields of your choice.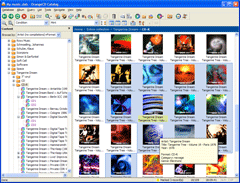 Table view
The table view displays albums in a table. You can hide columns that you don't need, or add new columns from the comprehensive list of album fields. Just like in thumbnails view, albums can be sorted by any column, field, or group of fields. You can select the albums from the list and print them or export to web pages.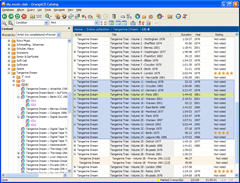 Album details
The details screen displays all fields of the album in a nice and readable form. You can customize the content of this screen by hiding the fields that you don't need, and adjusting fonts and colors. If needed, the album data can be edited right away by clicking the quick links on the right.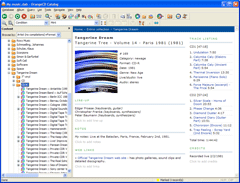 Album editing screen
This tabbed dialog box is used to enter or edit the album data, including CD or vinyl tracks, credits, recording information, lyrics and cover image.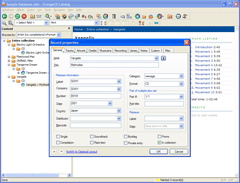 Simple search
The simple search allows you to quickly find the albums that contain a text string you specify. Unlike the advanced search feature, it just looks into every field of each album, unless you check "Search artist and title only" option, in which case it only looks into the Artist and Title field.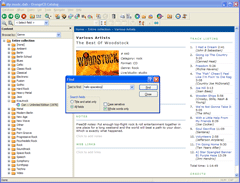 Advanced search
The advanced search is a powerful tool for finding the albums by building queries. For example: "Find me all opera records released by EMI in year 1976".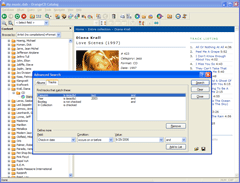 Amazon search
You can add albums by searching huge Amazon database.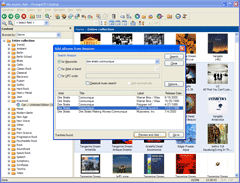 Learn more about features and download your free 30-day trial.



Latest build: 6.5.9.28930

Released:
January 30, 2022
I am impressed by the ease of use... Very good job with the user interface and collection of data.


- L. C.


Your program is the best I've seen on the market. It shows that some intelligent thought went into developing it.


- J. W.


First of all, I'd like to say that I simply LOVE your CD Player... It's great, so simple, yet so detailed. Kudos to you guys for developing an amazing program! Keep up the good work!


- E. D.